Das Smartphone als Schweizer Taschenmesser. Schönes Bild. Das Handy übernimmt – besondersbei den Jüngeren – immer mehr die Funktion eines Allzweck-Tools. Es istder (hauptsächlich genutzte) Fotoapparat, Taschenrechner, Wecker, Uhr, Taschenlampe, Musik-Player – und für jeden Dritten sogar der Haupt-Videoplayer.
Die Folge dürfte sein, dass mittlerweile immer mehr Menschen keinen eigenen Fotoapparat, Wecker, Uhr, Taschenrechner oder Musik-Player mehr besitzen, und diese Geräte wohl über kurz oder lang aussterben könnten – außer als spezielle Design-Objekte oder Retro-Kram.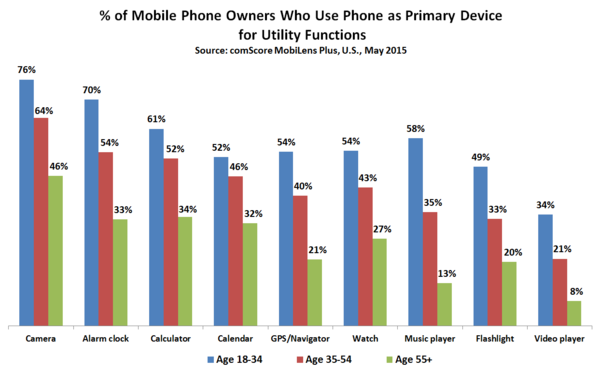 Overall, it's clear that the smartphone revolution isn't only affecting digital media consumption but also our daily behaviors from the physical world that have now migrated to digital platforms.
Quelle: Are Smartphones the Swiss Army Knife of the Millennial Generation? – comScore, Inc