Ältere Social-Networlk-Nutzer  Facebooken und Twittern weniger vom Smartphone, als vom Tablet.
Bei den Jüngeren ist es genau umgekehrt.
Meine Erklärung wäre ja eher die geringere Mobilität von Älteren Personen und die Höhere Tablet-Verbreitung bei technik-affinen Älteren. Aber mangelnde Smartphone-Abhängigkeit geht auch durch….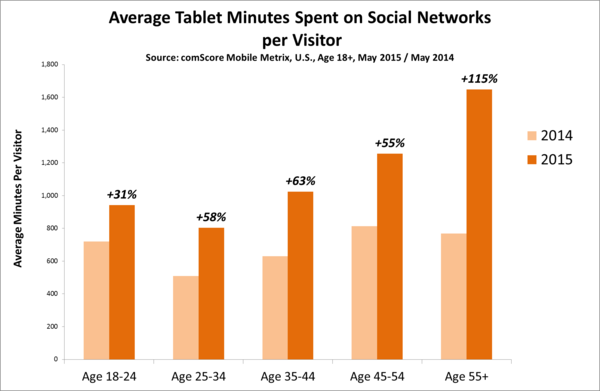 Usage of social networking platforms has become nearly universal. In May 2015, almost 90% of the U.S. digital media population visited social networks, which accounted for more than 300 billion minutes of users' attention. As social networking penetration inches ever closer to reaching the total internet population, differences in how people engage with social networks become more apparent.
Quelle: Millennials Boast Huge Social Networking Growth and Engagement on Smartphones, But Older Users Surprisingly Outpace Them on Tablets – comScore, Inc